Coming in Spring 2018
REGISTRATION IS CURRENTLY: CLOSED
__________________________________________
SHAKESPEARE IN THE PARK
(Sundays)
6-WEEK INTENSIVE THEATRE FOR YOUTHS
Date: March 18th – April 22nd, 2018
Time: 2pm – 5pm
Venue: Open-Air Park, Tsinghua Campus, Wudaokou, Haidian District
Instructor:  enna morgan
In this four day workshop, students will play fun theatre games while learning essential acting skills and building an ensemble. We will explore the basic principles of acting, including listening and responding, risk-taking and making bold choices.  The workshop will be taught in English, and so a prerequisite for entry is to have at least an intermediate level of spoken English. Students will be expected to have lines memorized for one short scene when they arrive on the first day.
The workshop culminates in the filming of each scene, thus providing students with a video for their portfolio.
   Scenes from previous workshops
Preparation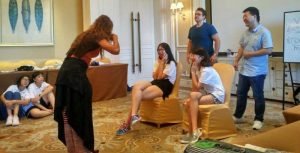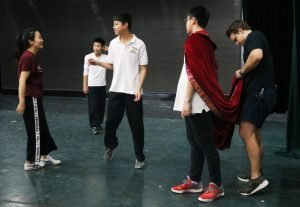 Production
"When it comes to storytelling many of the best novels, plays, poetry, and films in the English language are heavily influenced by Shakespeare's stories, characters, language, and themes.  To know some Shakespeare provides a head start in life.  " – Todd Licea, Actor, Instructor, & Coach

Course fee
1875 RMB
(before January 30th, 2018)
2285 RMB
(after February 1st, 2018)
Fee includes: 18 hours of instruction, MP3 Audio file, and BFT Hoodie
We reserve the right to adjust the course cost, the date and the venue according to space availability and the demands of the community. And will be happy to give a full and immediate refund should there be any conflict resulting from changes we have made.
Cancellations: Before March 11th, 2018, you will get a full refund, however, there are no refunds given after March 11th, 2018
________________________________________________
Coming in Summer 2018
JULY, 2018
SPECIALTY WORKSHOP (Film); WRITE IT, FILM IT!
From conception to production, a 1-week Intensive film-making course for youths (12 – 18), where they learn to write a script, and film it all in 1 week
Instructor: Jim Dougherty
More details to come……