Okay, the Westin has rolled out the red carpet, and here is what the March wind is blowing in:
K & Q
As Tarrant (Mad Hatter) and Alice (Liddell),
in
tHE mAD hATTER'S dINNER pARTY!
AN INTERACTIVE GALA AFFAIRE – A DINNER AND COMEDY SHOW
What: A Gala Affaire: Dinner & Interactive Mystery Show
Where: At the Westin Hotel, Chaoyang, Beijing

When: March 3rd, 2018, 6pm until late
4 cOURSES of fINE dINING, aND fREE fLOW oF wINE and bEER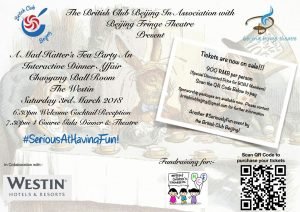 Last month, you fell in love with them in BLOODY MARY, as the wacky Detective Floppy (Kelvin Lamplough) and the witty Detective Stiffy (Quintus Aslett), and the love affaire continues as K & Q take you on another mercurious journey of hilarity and mayhem. And as usual, they will bring along a train of likeable suspects, such as the Cheshire cat, Twiddle dee and Twiddle dum, the March Hare, and others, who will all be there to entertain you as they meander along the path of this age-less classic, in  Wonderland, in search of …….who knows what this time!?
Well we certainly do not know, and we really don't care!
Beijing Fringe Theatre has joined forces with The British Club Beijing, to being you another hilarious, knee-slapping, entertaining evening of participatory fun, laughter, and undeniably delightful cuisine.
So dust off your best frock, polish the party shoes, and skip lithely on the spring air, over to
The Westin, Chaoyang, on March 3rd, 2018!
We promise it will be a night to remember!!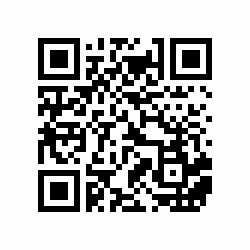 Don't be caught without a ticket (like the last time!), use the scan code above to secure your spot and let us know if you want to be a participating member of the fun (extra fee will apply)!!
What people are saying about our events